Return to Headlines
NJASA Selects Dr. Michael Kuchar and Dr. Kathleen Taylor
Recipients of the 2020 NJASA Distinguished Service Award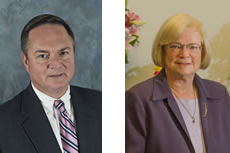 The Association selected Dr. Michael D. Kuchar, Chief Education Officer, South Bergen Jointure Commission, and Dr. Kathleen W. Taylor, Chief Education Officer, Ocean City School District, recipients of the NJASA's 2020 Distinguished Service Award (DSA).
The NJASA Distinguished Service Award is the most prestigious award conferred by NJASA upon its members. This recognition honors an NJASA member for his/her dynamic leadership, outstanding contributions to education, and service to the students of New Jersey. Since its inception in 1975, a total of 96 members have received this esteemed award.
"NJASA is pleased to have chief education officers of Dr. Kuchar's and Dr. Taylor's statures receive this well-respected honor," commented NJASA Executive Director Dr. Richard G. Bozza. He added, "Both Dr. Kuchar's and Dr. Taylor's unique backgrounds and experiences have significantly assisted in improving educational efforts throughout New Jersey's public school systems."
Association Executive Director Dr. Bozza said, "Both 2020 NJASA DSA Recipients are dedicated, hard-working professionals who continually strive to improve the quality of education for all students. They are remarkable chief education officers with vision, imagination, and compassion for the students they serve. Their accomplishments exemplify what every chief education officer should achieve."
Dr. Michael D. Kuchar, a NJASA Past President, is a collaborative leader who empowers his team to elevate, innovate, create and develop programs through the lens of data analysis, sharing services, community involvement, business leadership, and increased parental and public support for investment in educational programs.
Dr. Kathleen W. Taylor, the 2018 New Jersey Superintendent of the Year, is an innovator in seeking solutions, creating programs, leveraging resources to financially support the school district, setting standards for comprehensive and sustainable school improvement, and building consensus on a strategic path forward for students, staff and the school district.
From his vantage point as an educator and instructional leader with classroom and school-level expertise reflecting a career spanning 37 years, Dr. Kuchar said, "First and foremost, I am a teacher with a deep and personal understanding of the complex needs of schools in the development of quality teaching and learning amid rapidly changing demographics." He added, "My career passion has been equity for all children, with a personal and professional commitment for children that are uniquely able."
In accepting this prestigious honor, Dr. Taylor said, "I have been blessed with a challenging and rewarding career that has taken me from the classroom to the principal's office to my role as superintendent of a high-achieving district in an idyllic community. But regardless of my role, responsibilities or district I serve, I never lose sight of what drew me to and ignited my passion for education – the students whose lives we as educators are privileged to touch and share."
The Association will honor the NJASA 2020 DSA Recipients Dr. Kuchar and Dr. Taylor at a future date. Originally, they were to be recognized at the annual NJASA/NJAPSA Spring Leadership Conference, which was cancelled because of the Coronavirus.