NJASA Announces the Distinguished Service Award Winner, Patrick Fletcher of River Dell Regional School District
Posted by Dr. Richard G. Bozza on 5/16/2018 3:05:00 PM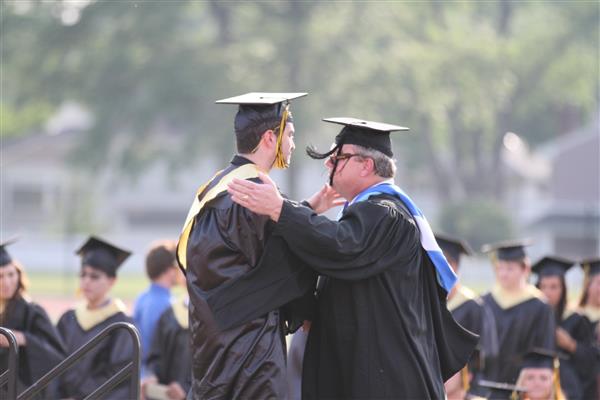 There are great things happening in the River Dell Regional School District, and we think it's because of who is at the helm. Meet Patrick Fletcher, the guiding force behind this highly-ranked district, and the recipient of the 2018 NJASA Distinguished Service Award.
At the helm of the district since 2006, River Dell Regional Superintendent Fletcher has made his mark. Under his leadership, River Dell Regional has been called one of the best public districts in the state -- and nation -- in publications such as NJ Monthly, The Bergen Record, The Star Ledger, Newsweek and US News & World Report.
He created the first tri-district office of curriculum and instruction as a shared service with two sending districts. He supervised over $29 million in building renovations. He introduced a district-wide technology program and a one-on-one laptop computer initiative for students in grades 7-12. He spearheaded programs to support students with disabilities, ages 18 to 21, to transition from school to work and other educational opportunities. He works hard to ensure his seventh through twelfth grade students are well prepared academically, and well supported socially and emotionally.
Superintendent Fletcher gets things done in River Dell by understanding people, education, business, and the community. Being a Certified Public Accountant with an active license – and a former school business administrator -- doesn't hurt when it comes to analyzing school budgets.
He is most proud of developing a comprehensive special education program that provides the same opportunities to disabled students as their non-disabled peers. It is not uncommon for these students to be a part of an academic awards ceremony, the school musical or a competitive athletic team. Patrick Fletcher also initiated a program to support under-achieving students who do not meet the threshold for special education intervention. As a result, every student succeeds at River Dell.
But it's not just his influence within the district. Patrick Fletcher's service to NJASA, and other professional associations, is truly inspiring. An NJASA member since 1999, he has served as secretary, treasurer, president, immediate past president and currently is a NJASA past president. He also served on NJSIAA's non-public committee. For his accomplishments in River Dell, he was chosen as the Northern New Jersey Superintendent of the Year by his peers in NJASA in 2014.
Superintendent Fletcher's reach in the community is equally pervasive. He is a past president of the Bergen County Business Officials Association and a past president of the Bergen County School Administrators Association. He is a trustee for Bergen County Community College. He was selected as the 2016 Person of the Year for the YMCA of Greater Bergen County. His work with the West Bergen Mental Health Center also earned him a Distinguished Service Award.
He leads by example, donating his time over the years to such organizations as the Volunteer Center of Bergen County, the organization that helped coordinate much of Super Storm Sandy relief efforts. He is working to make a difference—in River Dell and beyond. Following the terrorist attacks of September 11th, he helped to form the Bergen County Flight Team. Consisting of trained school personnel, the team responds when schools need help in dealing with tragedy and grief. That model is now in wide use across the state.
Superintendent Fletcher is a constant presence in the classrooms and hallways of his schools, and attends every event. He is deeply engaged in his district and in the success of his students, and he leads by example, inspiring them to make a difference.
For influencing a generation of students, for helping forge a path for quality education in New Jersey, and for giving his time generously to causes that matter, we salute him. Congratulations, Patrick Fletcher on receiving the 2018 NJASA Distinguished Service Award.