NJASA Announces the Regional SOY Winner, Chuck Sampson of Freehold Regional High School District
Posted by Dr. Richard G. Bozza, Executive Director on 5/16/2018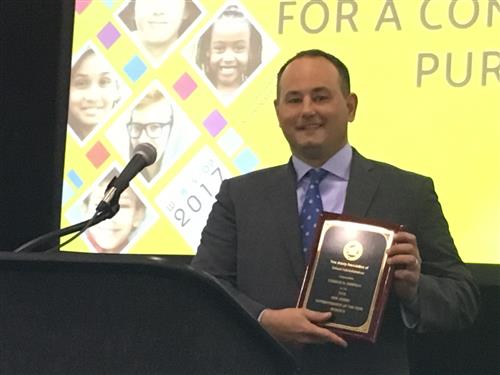 There are more than 10,500 students in the Freehold Regional High School District, and Chief Education Officer Charles B. Sampson is ensuring each one has the opportunity to reach unprecedented heights. As a result, his district has been honored repeatedly at the local, state and national levels.
Now Superintendent Sampson can add one more honor: NJASA Regional Superintendent of the Year.
"This honor not only recognizes my work in the district but acknowledges the fantastic team that makes the Freehold Regional High School District a lighthouse district," said Superintendent Sampson. "I am very fortunate that our district has been able to accomplish so much thanks to a strong team of dedicated individuals."
His goal is authentic and modern learning for all at Freehold Regional. There is dramatically increased access to AP, IB and honors programs, particularly for minority and economically disadvantaged students. There also are magnet programs and specialized programs for the neediest students. These programs are designed to challenge students in highly personal ways while they are fully supported with unique and locally-created intervention strategies.
Technology is pervasive—so much so that Superintendent Sampson was recognized as Future Ready by President Obama and the Office of Educational Technology. Superintendent Sampson joined more than 100 school district leaders at the White House who shared promising approaches for using technology in our nation's schools. "It is not sufficient to tinker along the edges of tradition," he was quoted as saying. "We need to create bold new paths"—and he is.
Superintendent Sampson has led the district since 2011 and is known for his hands-on approach. When he wanted to evaluate the student experience in his district, he didn't just observe a class. He spent the day as a student.
As a result of his leadership, the district has earned numerous accolades:
Two separate Program of the Year designations from the New Jersey School Boards Association;

The only public district in New Jersey to be honored twice at state level for innovations in special education;

One of only nine districts this past year to receive a $500,000 grant to support the expansion of the computer science program;

One of only two districts in New Jersey to be named to the AP Honor Roll for the first five years of that designation; and

Acceptance into the prestigious League of Innovative Schools, a national coalition of forward-thinking school districts organized by Digital Promise, an independent, bipartisan nonprofit organization authorized by Congress to accelerate innovation in education.
"We have worked hard to embrace the changing trends of technology to create an inventive, student-centered learning environment," he said. "Organizations like the League of Innovative Schools allow teachers and administrators to learn from a community of practice."
Superintendent also has received his share of individual recognition, as a byproduct of his exceptional district-wide commitment to students. He was named 2017 Monmouth County Superintendent of the Year. He was the 2017 Manalapan Mayor's Charity Ball Honoree for outstanding leadership and contributions to the community. He was appointed to the Common Core Standards Review Committee to rethink the standards for New Jersey.
He continually seeks best practices from among his peers—as an executive officer of the Garden State Coalition of Schools, a network of high-performing New Jersey districts dedicated to quality education for all. He is a member of the Panasonic Foundation, New Jersey Network of Superintendents, dedicated to improving excellence and equity for all students. An adjunct professor at Montclair State University, he was recognized for outstanding contributions for the next generation of school leaders.
For these, and many more accomplishments too numerous to name, Chuck Sampson is NJASA's Regional Superintendent of the Year for 2018. Please join us in congratulating him.