From Tech Start-up to Tech-Savvy in New Jersey's Schools TECHSPO® Celebrates 25th Anniversary
Posted by Dr. Richard Bozza, NJASA Executive Director on 1/6/2020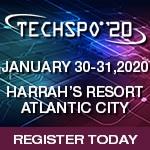 In 1995, there were no iPads or Chromebooks. The worldwide web was just getting started. A classroom might have had one desktop computer, used as a supplemental tool. It was the infancy of technology in education.
Fast forward 25 years and you can see the paradigm shift. Today's schools are infusing technology in the learning process via laptops, tablets, and other smart devices coupled with innovative teaching methods like blended learning that encourage students to take charge of their educational journey.
Far from a single computer in the corner, these classrooms are wired for learning. According to a 2018 study by MidAmerica Nazarene University, 86 percent of K-12 teachers surveyed had WiFi in their classrooms. Seventy-three percent said their students used tablets or laptops daily and 66 percent noted that the school supplied the devices. Twenty-five percent of the students brought devices from home.
This dramatic evolution, from tech start-up to tech-savvy, would not have been possible without the foresight of New Jersey's school leaders. It was in those formative years when NJASA initiated its Technology Committee to stay abreast of technological trends in education. In 1995, to bring these topical issues and emerging technologies to our members, we held the first TECHSPO®. It was a valuable resource as districts sought to implement the technology that would transform learning. Now in its 25th year, TECHSPO® '20 is still New Jersey's Premier Educational Technology Training and Exhibition Conference for school leaders and educators.
Mark your calendar for TECHSPO® '20 in Atlantic City, January 30th to 31st. It could be the most important meeting you'll attend all year. Here's why.
At TECHSPO® '20, you'll network with more than 1,000 K-12 educators. You'll find the latest on educational technology, and practical advice you can implement right away. You'll hear from school districts that are pioneering groundbreaking programs. They're starting coding in PreK. They're using technology for K to 5 language instruction. They're embracing the 21st century digital classroom.
Importantly, you'll get an expert view on the key issues you'll want to explore.
Are you fully prepared for a cyber-attack? Learn the elements of good cyber security and how you can protect your district.
Are you seeking to improve equity in your district? Learn how you can use technology to enable equity for all learners.
Empower your staff through tech coaching. Revolutionize social emotional learning with student-created virtual reality. Make learning visible through technology-based assessments. Choose from over 130 workshops covering everything from STEAM programs to classroom tech tools, and more.
Inspiring Keynote Speakers Share Unique Perspectives
Matt Miller is an educator, blogger and presenter who has infused technology and innovative teaching methods in his classes for more than 10 years. He is the author of "Ditch That Textbook: Free Your Teaching and Revolutionize Your Classroom." After trying to teach by the textbook for a few years, he launched into a textbook-less path where learning activities were often custom produced for his students as well as infused with technology. Matt is a Google Certified Innovator and a PBS LearningMedia Digital Innovator, and we'll learn a lot from his innovative approach.
Dr. Katie Martin is the author of Learner-Centered Innovation and Vice President of Professional Learning at Altitude Learning. She has worked in diverse contexts to learn, research, and support deeper learning for all students. At the university, district, and school-level, Katie aspires to create experiences that empower all learners to develop knowledge, skills, and mindsets to thrive in a changing world. As a mom, she wants her kids to have learning experiences in school that build on their strengths and interests and as an educator; she is passionate about making sure we do the same for all kids.
New This Year: Technology "Fireside Chats"
This year, we're hosting fireside chats, informal yet structured sessions where you can ask questions of our experts on the following topics:
What is the role of esports (competitive gaming) in education? We'll discuss the academic and social emotional benefits, and share the challenges and successes.

How can we train our students to address the sustainability challenges that humanity collectively faces, such as climate change or global food security? We must move beyond conventional teaching practices and towards a reinvention of STEM education.
Register Today for TECHSPO® '20
That's just a glimpse of what you'll find at TECHSPO® '20. It's two days, two keynote presentations, 280+ speakers, 130+ workshops, and 150+ exhibitors. This conference will help school leaders, educators, and anyone in your district working with technology.
Don't miss your chance to take your district's technology to the next level. Join us at TECHSPO® '20, on January 30th and 31st at Harrah's Resort in Atlantic City. Click on the following links for the registration page, information on hotel reservations, and a waiver for overnight lodging. Together, we can conquer the challenges of technology and embrace opportunities so that students will be ready to take on their future. Learn more at njasa.net.