"EQUAL JUSTICE UNDER LAW"
Posted by Dr. Richard Bozza, NJASA Executive Director on 9/21/2020
Justice Ruth Bader Ginsburg
March 15, 1933 – September 18, 2020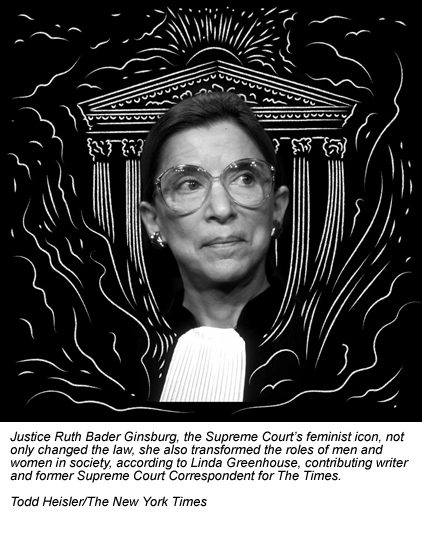 On behalf of NJASA, it is with a heavy heart that I acknowledge the passing of Justice Ruth Bader Ginsburg, a dedicated advocate of equality and justice.

The words - "EQUAL JUSTICE UNDER LAW" written above the main entrance to the Supreme Court Building, express the ultimate responsibility of the Supreme Court of the United States. Justice Ginsburg's accomplishments exemplify the true meaning of these words. One of her most notable accomplishments is the Supreme Court's landmark decision in United States v. Virginia (1996), which held that the men-only admission policy of a state-run university, the Virginia Military Institute (VMI), violated the equal protection clause. Rejecting VMI's contention that its program of military-focused education was unsuitable for women, Ginsburg noted that the program was in fact unsuitable for the vast majority of Virginia college students regardless of gender. "[G]eneralizations about 'the way women are,' estimates of what is appropriate for most women, no longer justify denying opportunity to women whose talent and capacity place them outside the average description," she wrote.
The New York Times Editorial Board writes, "Justice Ginsburg, who was Jewish, died on the eve of Rosh Hashana, the Jewish new year. Fittingly, it is a day when Jews look backward and forward, reflecting on what has passed, and preparing for what is to come. Justice Ginsburg's death marks the end of her long battle on behalf of equality for all Americans. Others must now carry that fight forward."

Colleagues, my thoughts turn to all of you who are our frontline leaders making a difference in the lives of our students. I thank you for your efforts in educating and guiding the future Ruth Bader Ginsburgs of the world.

We are in a better place because of her. And, I am hopeful, her wishes and beliefs will continue to make our country and the world a better place.