Three Reasons to Attend the Spring Leadership Conference
Posted by Dr. Richard Bozza, NJASA Executive Director on 4/30/2019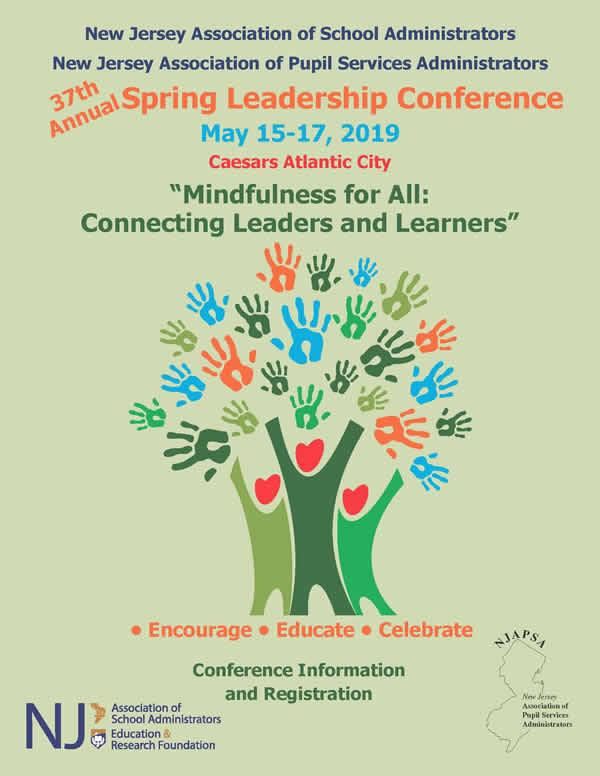 Self-awareness. Focused attention. Empathy and inclusiveness. These are just some of the concepts embedded in mindfulness, the theme of this year's NJASA/NJAPSA Spring Leadership Conference: "Mindfulness for All: Connecting Leaders and Learners." When mindfulness is a focus in education, both leaders and learners benefit—which is why attending the conference could be the most important professional development opportunity that you take this school year. In fact, there are hundreds of reasons to sign up for the spring conference. I'll give you my top three.
Reason #1: Inspiring Speakers Offer Exciting Perspectives on Leading and Learning
The conference opens with a keynote presentation on Wed., May 15, from 1-3 p.m. by Jonathan Mooney. Jonathan first learned to read when he was 12 years old. Today, he's an award-winning writer, entrepreneur and activist who is one of the foremost leaders in neurodiversity, education reform, and career pathways for at risk youth. His books, including "The Short Bus: A Journey Beyond Normal," are considered foundational texts in the disability rights movement, the inclusive education movement, and the learning revolution, and are used in undergraduate and graduate programs at universities and colleges across the country. Jonathan has lectured in 49 states and 5 countries, and has been featured and quoted in the New York Times, the Washington Post, HBO, NPR and more.
On Thurs., May 16, from 9-10:30 a.m., we'll hear from Dr. Samuel Betances, a former school dropout who went on to earn two graduate degrees from Harvard. Now he's a senior diversity consultant who inspires willing learners to excel. Dr. Betances is passionate about social justice and increasing the cultural competencies of mission-driven teams for educating ready-to-learn urban students immersed in poverty. His books are well received by principals, educators, students and parents, including his most recent release, "Ten Steps to the Head of the Class: A Handbook for Middle School Students."
On Fri., May 17, from 9-10:30 a.m., we'll learn from Dr. Michele Borba, an internationally-known educator, author and bullying expert. Her realistic approach is stopping bullying in its tracks, by bolstering empathy and social-emotional intelligence. Her proposal, "Ending School Violence and Bullying" (SB1667) was signed into California law in 2002. Dr. Borba is an award-winning author of 24 books translated into 19 languages. She is a frequent NBC contributor, and has appeared on the Today Show, Dr. Phil, Dateline, The View, as well as MSNBC, Fox & Friends, CNN, and more.
Reason #2: Insightful Programs Offer Best Practices—Ready to Launch in Your District
With a focus on mindfulness for all, our Spring Leadership Conference workshops are designed to encourage, educate and celebrate both leaders and learners. Here is just a sampling of what you can expect. Find a full list at this workshop link.
Reducing Anxiety, Stress and Aggression in Students with Autism and Behavioral Disabilities Using Mindfulness Practices

Social and Emotional Learning and At-Risk Youth; A Whole-Child Programmatic Approach to Meeting the Needs of Our Most Vulnerable Students

A whole child approach to school safety

Harnessing the power of resistance

School-based interventions without IEPs

STEM and problem-based learning with a purpose

Building an inclusive culture
Reason #3: Great Opportunities to Expand Your Resource Base Through Networking
Last, but not least, you'll connect with like-minded leaders who are successfully pioneering ideas in their districts. You'll also have the opportunity to chat with vendors who might be able to provide that pivotal product or service for your programs. Don't miss the chance to meet that colleague, collaborator or expert who will help you take your district to the next level.
To register for the 37th Annual NJASA/NJAPSA Spring Leadership Conference on May 15-17, 2019 at Caesars Atlantic City, click on the following links for the registration page, information on hotel reservations and a waiver for overnight lodging.