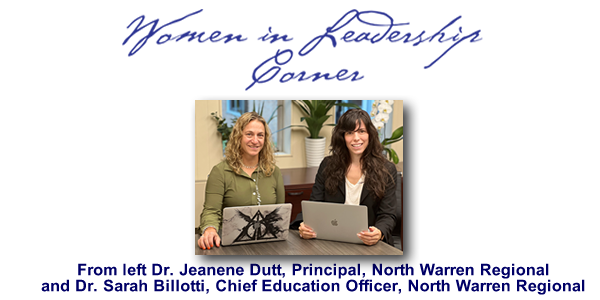 Strong Women, Strong Teams

Women in leadership roles face undue criticism from inside and outside their organizations and uniquely, women leaders in schools often face a stereotype - the archetype of a principal as an "older man." They can face questions that their male counterparts would not face such as "Do you have children?" "You're the principal? You don't look like a principal" and "I didn't think working for a woman would be this easy" and yes, we have been asked these questions directly!

So how do we do it? How do we rise above and create a strong team and a strong culture?



It Starts with Vision!
According to research conducted by Becoming Your Best Global Leadership (BYB), fewer than 1% of leaders have a clearly articulated, written vision. A personal leadership vision should reflect your purpose and how you want others to view you as a leader. It should answer, "What do I want my legacy to be and how can I leave this place better than I found it?" As school administrators, we are the educational leaders of our communities. We have an obligation to clearly articulate our vision for ourselves and for our schools to our community. Without our own vision, we cannot move our schools forward.

Once you have developed a personal vision and shared it, you can use it as a model for your teams and staff. Visionary leaders do not only envision their own practice but inspire their team and help them focus on what matters most. Team visions should be established collaboratively, visited often and displayed where all members can embrace it. Much like a personal leadership vision, a team vision should embody the purpose and focus of the team and be the driving force!



Shared Goals & Actionable Items
Only 10% of people have clearly written goals, yet according to BYB, you are 90% more likely to accomplish a goal when it is written. Sharing that written goal makes you 33% more likely to accomplish it. The act of writing goals down and sharing them leads to a focus on what matters most. School leaders must focus on both - vision and goals.

How does this relate to teams and collaboration? All members in the district should have access to the vision and goals. Furthermore, our leaders and staff either create or review goals before officially adopting them for the school year thereby improving commitment and accountability. Even in the challenge of COVID, our goals link to our collective vision.



Lead On the Pillars of Character & Trust
A strong leader is trustworthy and has strong character and moral fiber. School leaders portray these traits by being fair and consistent in all decisions. They maintain clear communication and strong relationships with teams, teachers, students, and community. Building trust through active listening and transparency in communication is key. As leaders, we know that trust can take years to establish and an instant to lose. We cannot move our vision and goals forward without the trust and faith of our teams and communities. Relationships are the key to achieving the vision!



Conclusion
ALL leaders, regardless of gender, can build strong teams and a strong culture! Inspirational intentional, mindful, and purposeful leadership is how we can become strong leaders and how we can motivate and support our administrators, teachers, students, and even parents, to become better participants in our school and community. Lead with a vision and character, collaborate on goals and celebrate your successes together.