2019 NJASA Distinguished Service Award Winner
Posted by Dr. Richard Bozza, NJASA Executive Director on 6/14/2019
Dr. Scott McCartney Makes a Difference in Moorestown and Beyond
Great leaders don't set out to be a leader. They set out to make a difference.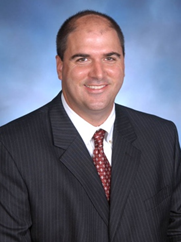 That's the case with Dr. Scott McCartney, Chief Education Officer for Moorestown Township Public Schools. As recipient of the 2019 NJASA Distinguished Service Award, Dr. McCartney had made quite a difference both at the local level and statewide.
The Value of Education
For Dr. McCartney, it started with a longstanding interest in education that turned into a major in college. But it was during his undergraduate practicum at Ursinus that he realized the full value of his chosen profession. He was asked to teach the color green to three young special needs students. It took many attempts, and a lot of creativity, but he succeeded – and was captivated by the experience.
The first of his family to attend college, he went on to earn his bachelor's degree in English with a minor in secondary education from Ursinus and followed with a master's degree in education administration and leadership from Rowan University and a doctorate in administration from Seton Hall University.
Taking the Helm to Lead Toward the Future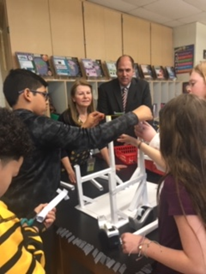 During that process, Dr. McCartney officially began his career as a teacher, substituting in the very district where he once attended school. The district recognized his potential and soon offered him a full-time teaching position for language arts, writing and reading. His administrative career soon followed, as assistant principal and principal at the George L. Hess Complex in Hamilton Twp., Atlantic County.
At the age of 32, he took the helm of Dennis Township Schools in Cape May County, becoming – at the time – the youngest chief education officer in New Jersey. He has since served as chief education officer for Downe Township Schools in Cumberland County and Egg Harbor Township Schools in Atlantic County.
Today, Dr. McCartney is Superintendent of the Moorestown Township Public Schools, a post that he has held for the past three years. And lot has transpired in those three years.
The district has been awarded a Bronze Certification in the Future Ready Schools Program. It has extended and enhanced technology integration. It has engaged with the community to address social and emotional learning.
Dr. McCartney has also worked with the Board to generate over 2.5 million dollars in new revenue through grants and programs in the district. This includes a school security grant of over a million dollars for Moorestown High School.
Through it all, Dr. McCartney is doing what he does best – making a difference. In addition to providing stability in leadership, he has engaged the school community on focused district goals. He emphasizes innovation, social and emotional learning and targeted instruction for different learners.
Taking on the Challenges that Make the Difference
His dedication to the profession is shown by his extensive record of service. Dr. McCartney is an active member of NJASA, and a past president. He also is an NJASA mentor and a former AASA Governing Board Member for New Jersey. Professional development remains his passion, and he regularly presents at the local, state and national levels. He is proud to be part of the Moorestown Township School family.
Throughout his career, Dr. McCartney has sought and been asked to participate in visionary programs and to take on new challenges. As a first-year teacher, he was asked to build a new computerized writing lab program and stepped in to help redesign an alternative school. As a building administrator, he has always looked forward to see how innovation and progressive thinking could benefit his students and my staff. Some of those areas included the development of a school based professional development institute, looping, innovative schedules and a variety of new instructional program and curricular models. As a Chief Education Officer, he has led the charge to implement standards-based instruction and reporting, professional learning communities, differentiated instruction, character education programs, STEAM, alternative programs, and a host of other visionary initiatives.
Says Dr. McCartney, "This career in education has blessed me and continues to do so daily as I serve a robust and talented community of learners. I am encouraged, excited, and enthusiastic about the care I see being delivered in our public schools each day and I truly feel privileged and grateful to be a part of it!"
For these reasons, and others too numerous to mention, it is my pleasure to recognize Dr. Scott McCartney with the 2019 NJASA Distinguished Service Award.
Click here to view the video.