On January 30th and 31st, 2014 NJASA is hosting the 19th annual Techspo Conference at Bally's Atlantic City. The conference is a technology training and exhibition for key school leaders and administrators in New Jersey. Over fifty workshops and exhibitions will showcase the latest tools, technology and top resources in education, plus there will be two days of opportunities to meet and network with colleagues, exchange ideas, and discuss pressing education issues.

Techspo keynote speakers include Alan November, a director of an alternative high school, computer coordinator, technology consultant, and university lecturer, and Mark Prensky, international speaker, writer, consultant, innovator and visionary in education and learning.
Alan November is known for helping schools, governments and industry leaders improve the quality of education through technology on multiple continents. His areas of expertise include planning across curriculum, staff development, new school design, community building, technology, and leadership development.
Classroom Computer Learning Magazine named Alan one of the nation's fifteen most influential "thinkers of the decade." Alan's writing includes numerous articles and best-selling books, including his most recent book "Who Owns the Learning?". Alan was co-founder of the Stanford Institute for Educational Leadership Through Technology and is most proud of being selected as one of the original five national Christa McAuliffe Educators.
You can follow Alan on Twitter, here.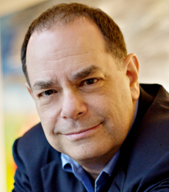 Marc Prensky, coiner of the terms "Digital Natives" and "Digital Immigrants", is considered one of the world's leading experts on the connection between learning and technology. Marc's professional focus is on understanding students and their future needs and designing better pedagogy and curriculum for the digital generation. Prensky's original ideas on how to adapt both our teaching methods and content to prepare young people in better ways for their future are being adopted around the world.
Marc has published scores of essays and articles, and is the author of five books: Digital Game-Based Learning (McGraw-Hill, 2001), Don't Bother Me Mom – I'm Learning (Paragon House, 2006), Teaching Digital Natives: Partnering for Real Learning (Corwin, 2010), From Digital Natives to Digital Wisdom (Corwin 2012) and BRAIN GAIN: Technology and the Quest for Digital Wisdom (Palgrave-Macmillan 2012).
Mark holds Master's degrees from Yale University, Middlebury College and The Harvard Business School, ran a charter school in East Harlem, NY, and has taught at all levels, from elementary to college.
You can follow Marc Prensky on Twitter, here.
Below is some information on what attendees need to know about the conference.
CONFERENCE INFORMATION
· A one day pass at Techspo is valid for only Thursday, January 30, 2014 or Friday, January 31, 2014. $235.00
· A conference pass for two days is valid for both Thursday and Friday, and includes all food and beverages provided by Techspo. $385.00
· All Techspo conference registrations must be completed and submitted no later than January 17, 2014.
· The waiver request for overnight lodging was approved by the Commissioner of Education, allowing school districts to reimburse attendees for overnight lodging on Thursday, January 30, 2014.
· Late Registration or On-Site Registration will include a $50 charge that will be added to the registration fee.
· The official Techspo Conference Badge is your admittance to sessions and included food functions.
HOTEL INFORMATION
· Bally's Atlantic City is the official hotel for Techspo 2014
· NJASA has negotiated a special rate of $99.00 for a single or double per night.
· The special rate will only be offered until the room block is filled up or January 7, 2014, whichever happens first.
· To take advantage of the special rate, simply call: Bally's Reservations at (888) 516-2215 between the hours of 9:00am and 3:00am, provide the Group Code SBNJS4
· All applicable tourism, state and city taxes are in addition to the quoted rates. Parking is also additional.
· NJASA does have a cancellation policy. All registrations cancelled after 4:00 pm, Friday, January 17, 2014, will result in a charge of the specified registration fee.
EXHIBITOR INFORMATION
· Currently all exhibitor space is sold out. If you would like to be placed on a waiting list, please send an email to Charlotte Duthie at cduthie@njasa.net.
· All businesspersons must use the Vendor Exhibitor Registration Form to attend. Please call Charlotte Duthie at (609) 599-2900, ext. 127 to obtain a form.
· You must be an allied member in order to exhibit at Techspo.
For more information on NJASA professional development opportunities please visit the Professional Development section of our website.