When my peers and I were in high school, we wrote our term papers on typewriters. We learned geography from a globe, and we looked up facts in an encyclopedia. What a difference a few decades make.
Students at the Brandeis School in Louisville, Ky., have probably never heard of a typewriter. Even kindergartners and ESL students do their book reports in the form of podcasts. Other students consult these recordings when choosing their own books.
In Detroit, Mich., eighth graders use software and handheld computers to map out their neighborhoods. They identify hazards and use that information to lobby the city for repairs. For them, not only is the globe coming to life, but it's also a relevant part of their own lives. Most important, technology allows them to make a real difference.
At the Clara E. Coleman Elementary School in Glen Rock, N.J., fifth graders don't need encyclopedias to look up facts; they can access the internet. Recently, these students taught senior citizens how to send email and navigate the internet in computer workshops. The intergenerational experience was a lesson for both students and seniors.
Welcome to the new era of 21st-century learning. Technology is changing how teachers teach and students learn. It's empowering students to explore real-world learning opportunities like the ones described above. Education doesn't get more powerful than that.
Technology Trends in Schools
Each year, it seems that technology becomes "smarter" and more interactive. While laptops, Chromebooks and iPads still have their place in the classroom, there are emerging technologies with the potential to transform the educational process. The following are some of the future trends to watch.
Electronic Portfolios: Traditionally, portfolios included samples of student work stored in a binder, folder, or box. The digital version allows for a greater breadth and depth of work, which can be used to measure learning goals. Students can further personalize their portfolio with a reflection on their achievements and development of their academic voice.
From Coding to Computational Thinking: Even elementary students can learn to develop computer code. It's an empowering skill that allows them to program the behind-the-scenes portion of computer software. Computational thinking takes this to the next level. It includes analyzing data and creating steps toward a solution, allowing students to deal with complex and even open-ended problems.
Virtual Reality: Schools are starting to use virtual reality applications made possible by such low-cost tools as Google Cardboard and Google Expeditions. Classes can enjoy immersive experiences such as virtual field trips.
3D Printing: This technology has the potential to allow students to bring engineering designs to life. Its downside is its price, which is still outside the budget for most K-12 districts.
In the nearer future, you'll continue to see the technology that has been evolving over the past few years. This includes personalized learning, one-to-one computing, blended learning (technology paired with traditional instruction), computer assessment, and online testing. Utilizing these methods in innovative ways—such as the podcasting, mapping, and researching mentioned in the introduction—will help drive education in the 21st century.
Digital Challenges and Opportunities
Yet technology is not without its challenges. Talk to any administrator who had to fund a district's worth of iPads or a teacher whose computers froze during an assessment, and you'll understand why not everyone is an enthusiastic proponent. In addition, it can be time-consuming to learn new technologies in order to be able to use them effectively in the classroom. In Technology in Education: An Overview, Education Week reports that "a significant body of research has also made clear that most teachers have been slow to transform the ways they teach, despite the influx of new technology into their classrooms." In other words, there's a great potential here for some of us to do more with technology.
We're all wrestling with the same issues, from getting up to speed on new software and hardware, to the changing role of teachers as educational facilitators, to 1:1 computing and personalized learning. Our task is to teach 21st-century skills to students who will be working in jobs that we can't even imagine right now. Minimizing technology in their instruction does them a disservice. As John Dewey once said, "If we teach today as we taught yesterday, we rob our children of tomorrow."
I, too, have been challenged by technology, and I often look for inspiration in other districts. Reading their success stories in Education Week is a start. But hearing teachers present their programs, asking them the pivotal questions that relate to your district, and being able to email them for follow-up are the invaluable takeaways from a technology conference like NJASA's TECHSPO.
Be Inspired by Educational Innovators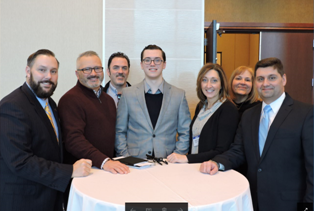 You're invited to attend NJASA's TECHSPO '17 on January 26–27, 2017, at Harrah's Resort in Atlantic City. TECHSPO is New Jersey's Premier Educational Technology Training and Exhibition Conference for School Leaders. At TECHSPO '17, you'll experience two days filled with formal sessions and impromptu networking opportunities to share experiences, find solutions, and discover the latest tools and resources in education today. You'll hear from two inspiring keynote speakers with unique perspectives on technology. You'll network with 1,000+ K-12 educators, participate in any of 70+ workshops, and visit a wide array of exhibitors.
Don't miss your chance to take your district's technology program to the next level! Click on the following links for the registration page, information on hotel reservations, and a waiver for overnight lodging. Together, we can conquer the challenges of technology and embrace opportunities so that students will be ready to take on their future.